HOME | Back to Gallery | Web Hosting
---
Tieton River Sept 1-3 2007
Labor day weekend on the Tieton river. I had my first runs in my new Stilletto IK (Inflatable Kayak).
I tried the movie feature on my camera this weekend. I reformatted the video for Windows Media Video, which is much more compressed than the files I originally posted, and should download faster.
---
Please be patient while the pictures load...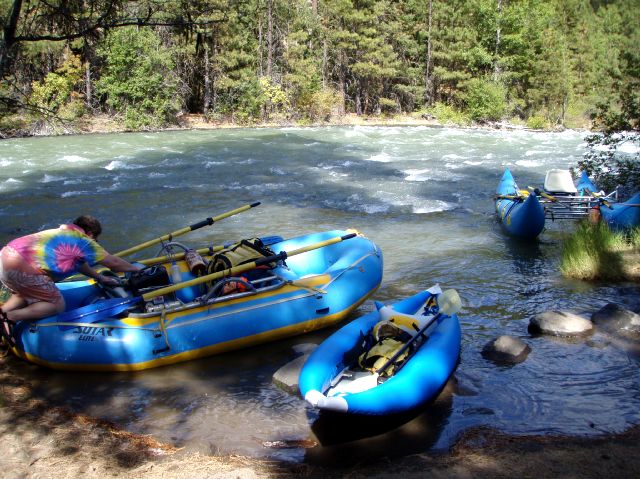 Day 1: Rigging boats at the launch. The small boat in the center foreground is my new Stilletto IK.
---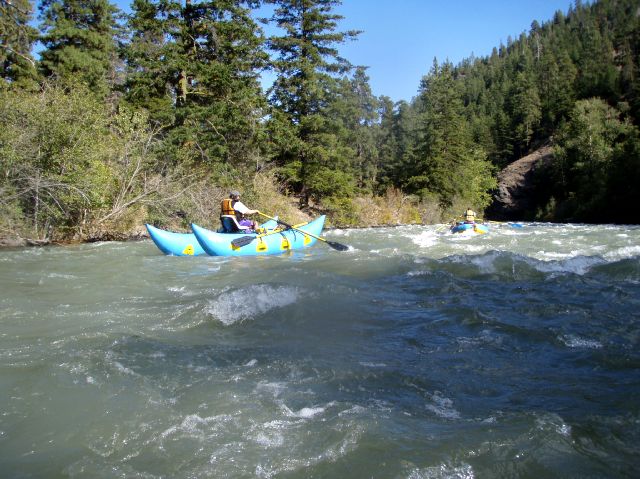 We're off! It's a long drive to get here so we launched late, about 3:00 in the afternoon.
---
My first attempt at a movie; I was holding the camera instead of paddling. I waited too long to put the camera down and grabb my paddle to avoid a flip and swim.
Movie

A professional photographer riverside got a sequence of photos of my swim in the rapid: www.snowdragonphotos.com
(Photos 52 thru 60 in the IK group on 09/01/2007.)
---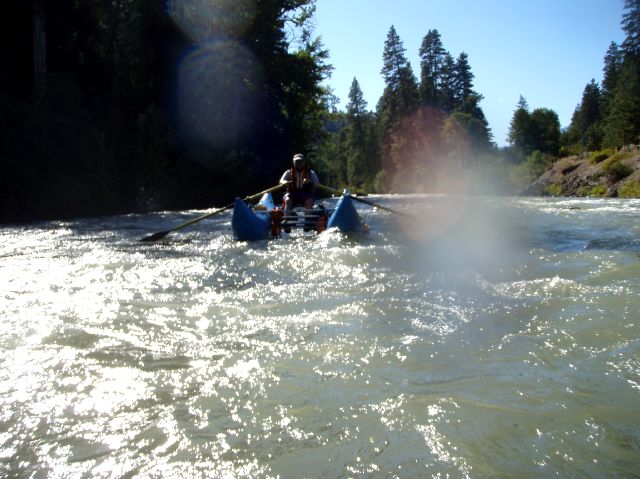 P9010034
---
Movie: approaching and running the diversion dam.
---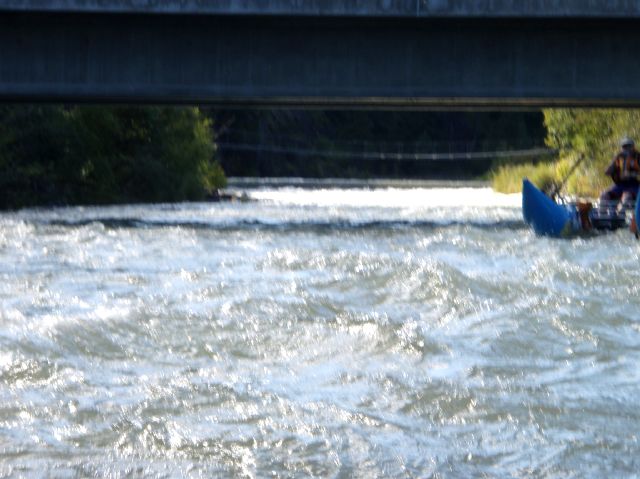 Looking upstream at the low head diversion dam.
---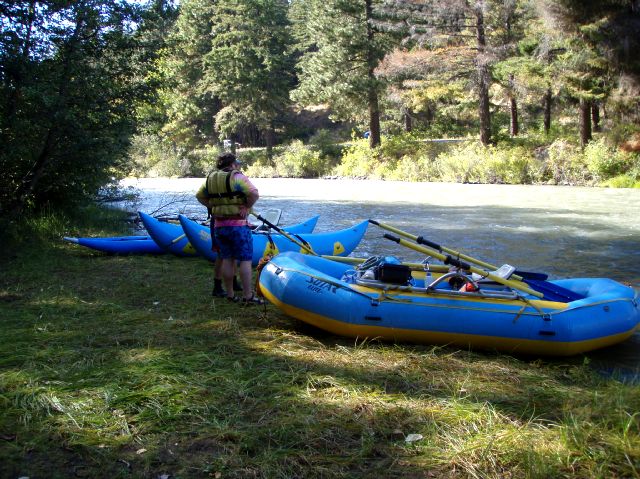 We usually stop here for lunch or a snack.
---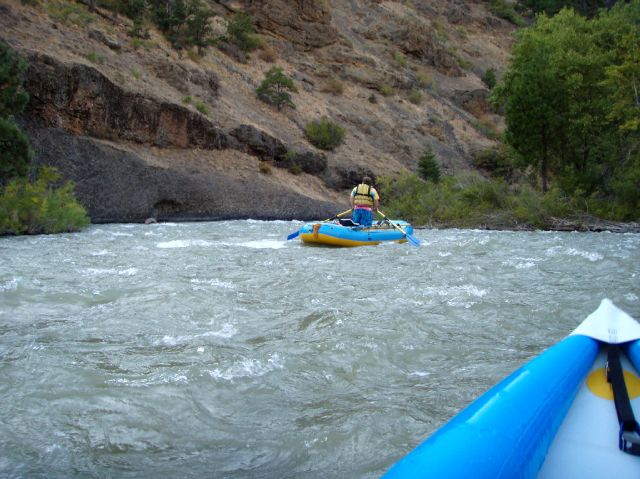 P9010038
---
P9010039 WMV Movie
---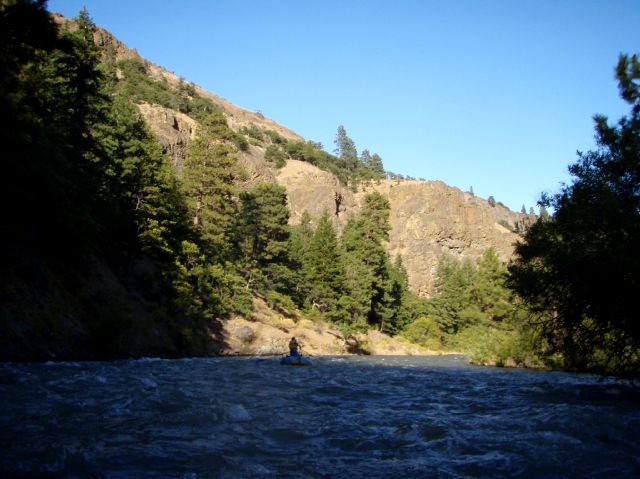 P9010040
---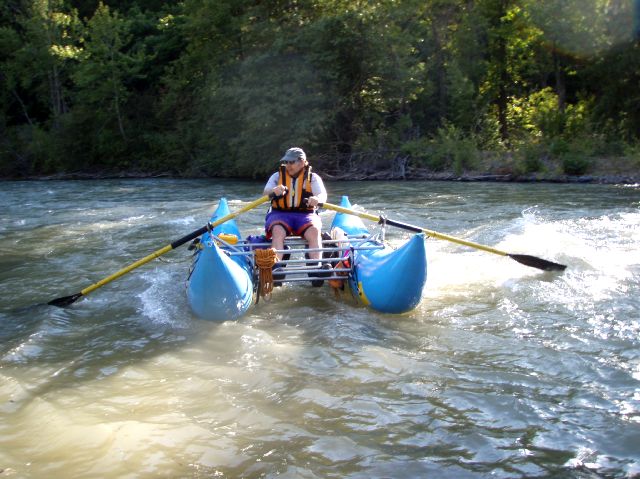 P9010041
---
DAY 2
I didn't take any pictures on the river today; I inadvertantly left my camera in my truck. It was probably for the better, since I could focus more on paddling and not swimming.
Bill has more pictures on his web site.
---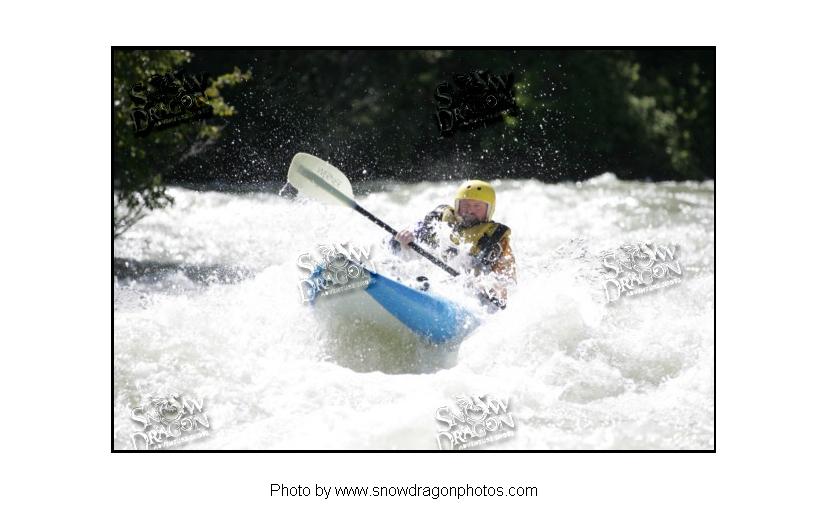 One of a sequence of photos taken by a professional photographer for www.snowdragonphotos.com.
(Photos 61 thru 76 in the IK group on 09/02/2007.)
---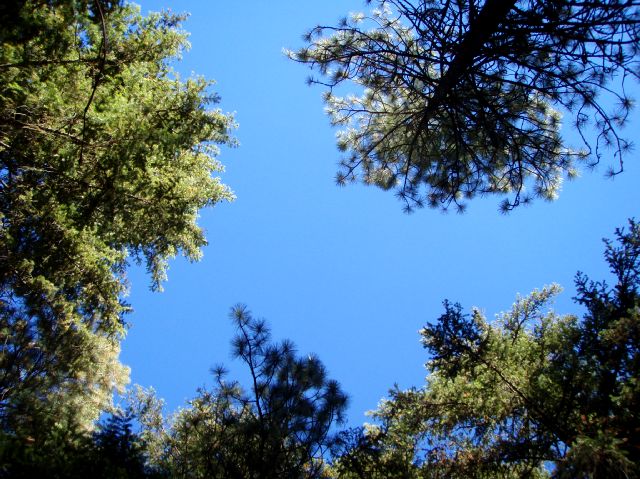 What I see lying on my cot.
---
My cot.
---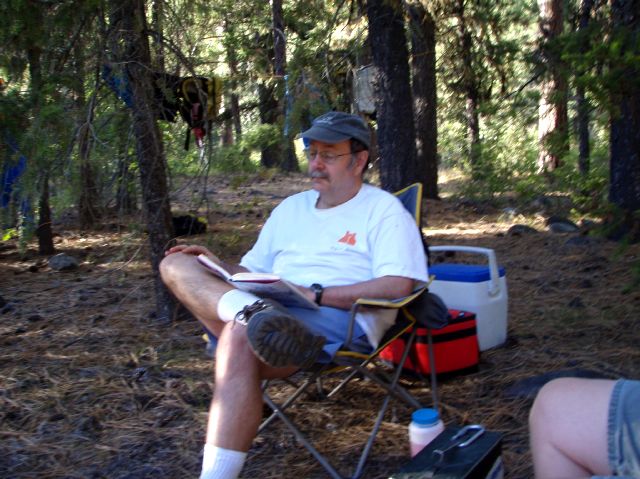 Bill relaxes with a book.
---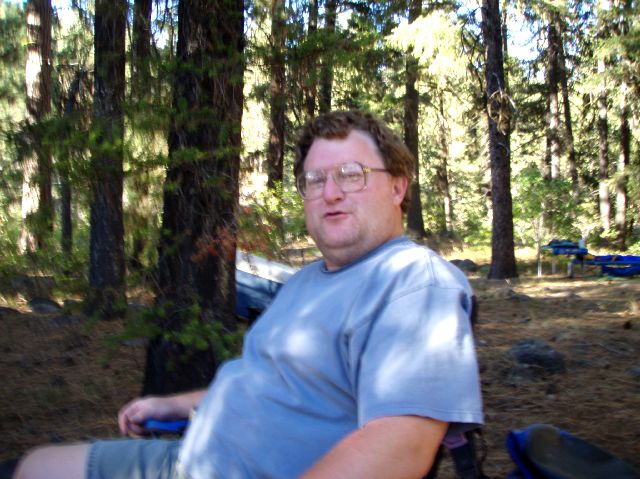 Al sitting back at camp.
---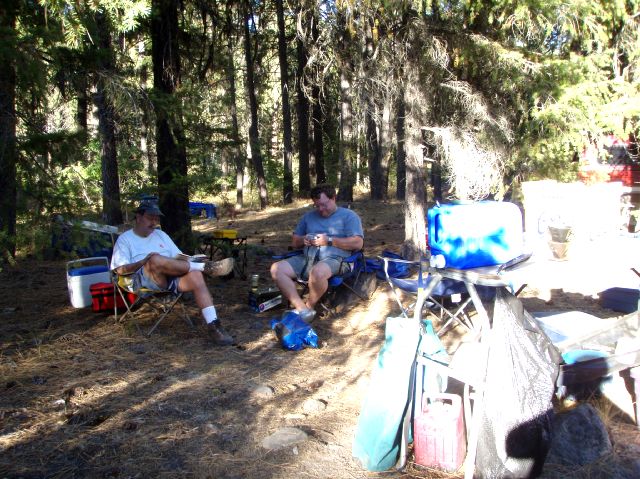 P9020047
---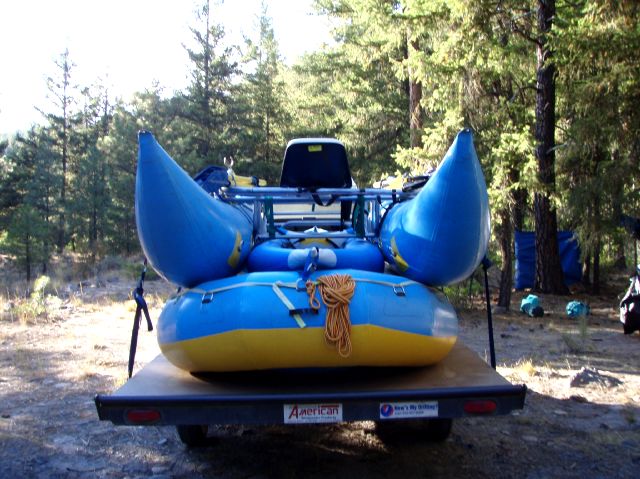 The boat stack.
---
DAY 3
I did remember my camera today, but forgot to put in a fresh battery. Consequently, I only got a few shots until I got a new battery from my truck at the end of the trip.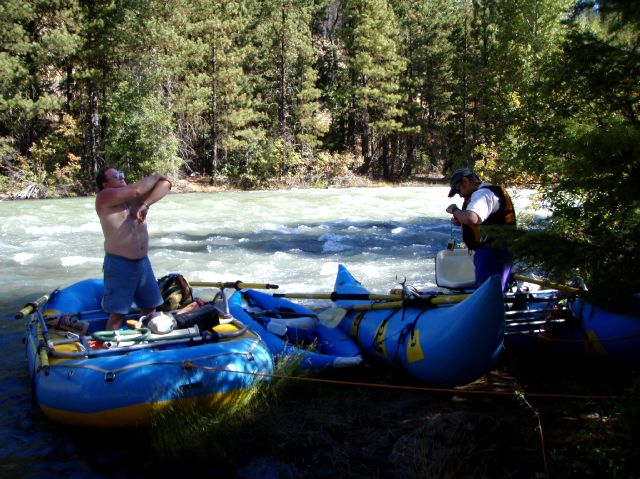 Final preparations for Monday's launch: Sunscreen.
---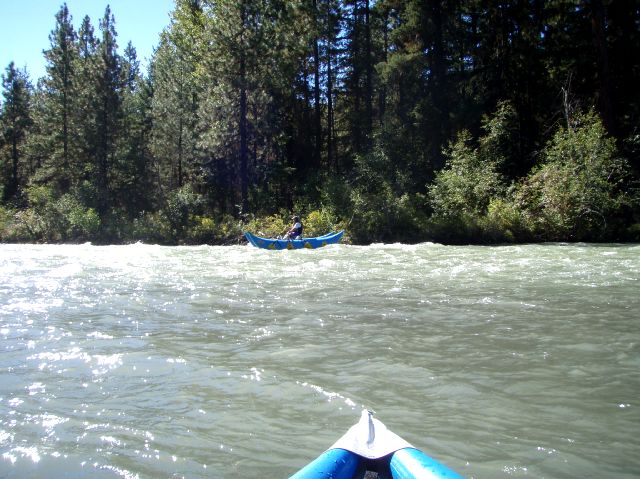 P9030053
---
Movie: Approach to "Town Hall" AKA "High Noon"

The preferred run is down the right side of the boulders. Bill's boat was in the way, and I ended up runing the tricky left side of the drop backwards.
---
P9030061 WMV movie
---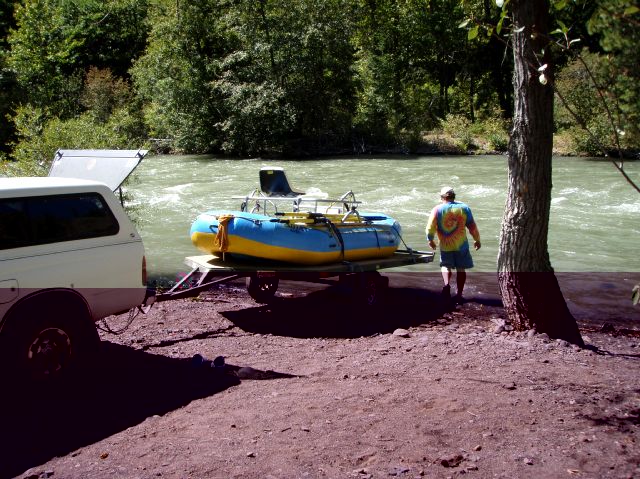 P9030062
---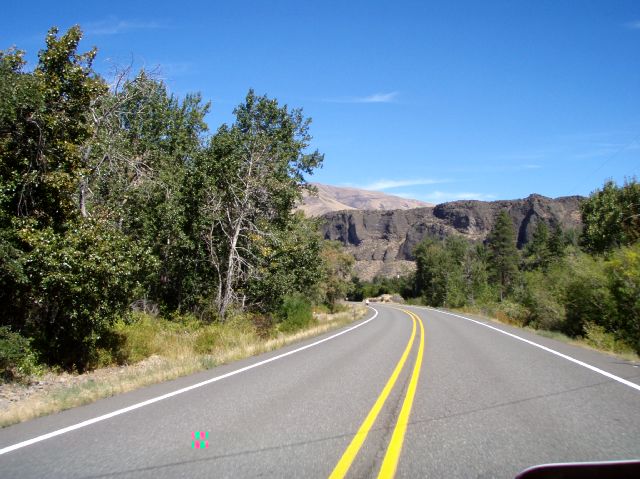 P9030063
---
More pictures on Bill's web site
Credits:
Olympus Stylus 725 SW Digital Photography by Jim McCool
---